Black-White Equality Index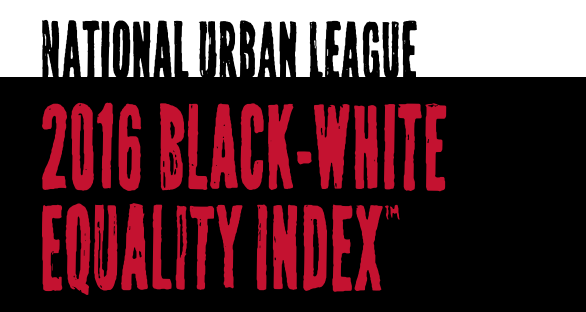 The 2016 Equality Index of Black America stands at 72.2 percent compared to a revised 2015 index of 72.0 percent.  Revisions to the previous year's index are done for greater comparability across years and reflect data points that have been corrected, removed from the current year's index or re-weighted so that less emphasis is placed on older data.  The largest increase in this year's index was in the area of education (from 76.1% to 77.4%), with smaller increases in economics (from 55.5% to 56.2%) and social justice (60.6% to 60.8%).  The civic engagement index declined sharply over the last year (from 104.0% to 100.6%) while the health index (from 79.6% to 79.4%) declined slightly.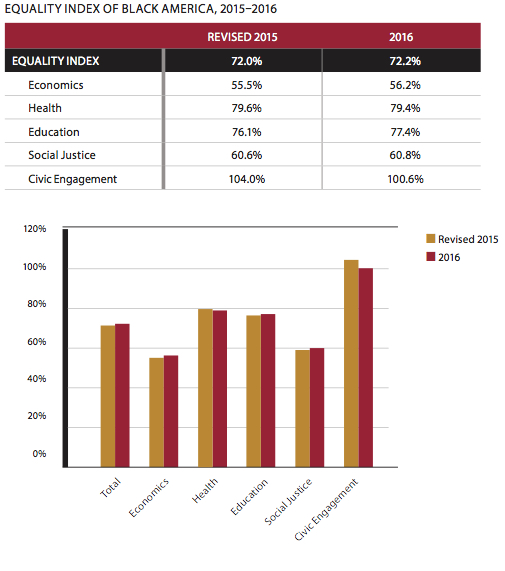 The increase in the education index was the result of improvements in college attainment and enrollment.  The increase in the economics index came primarily through progress in closing the digital divide as well as lower denial rates for African Americans seeking mortgage and home improvement loans.  The unemployment and homeownership gaps remained unchanged from the previous year.  The improvements in the social justice index resulted from a decline in the black incarceration rate, while the percent of whites placed in prison following an arrest grew by more than the rate for blacks. 
The large drop in the civic engagement index resulted from the typical decline in voter registration and participation that are characteristics of mid-term election years.
Related Resources:
Read the Full Black-White Equality Index