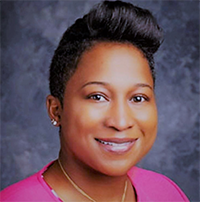 Dr. Kristen E. Broady
Visiting Professor of Economics, Alabama A&M University
Dr. Kristen E. Broady is a visiting professor of economics at Alabama A&M University and the proprietor of KBroad Consulting. She has previously served on the faculties of Howard University, Fort Valley State University, and Dominican University. Dr. Broady has worked as a consultant for the Joint Center for Political and Economic Studies; a senior research fellow for the Center for Global Policy Solutions in Washington, D.C.; a consultant for the City of East Point, Georgia, and as an HBCU consultant for the second season of The Quad on Black Entertainment Television (BET) in Atlanta. She is a member of Alpha Kappa Alpha Sorority, Incorporated; The Baltimore Chapter of The Links, Incorporated; the National Economic Association, and the Union for Radical Political Economics. Recent publications include "Passing and the Costs and Benefits of Appropriating Blackness," and "The Greek-American R&B Legend Who Passed as Black."  Dr. Broady earned a B.A. in criminal justice at Alcorn State University and an MBA and Ph.D. in business administration with a major in economics at Jackson State University.