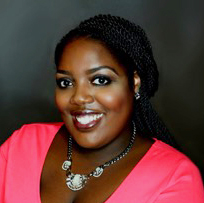 Ebony M. Baylor
Director of Civic Engagement, National Urban League
Ebony M. Baylor is a native of Shreveport, Louisiana, and has worked in state legislative politics and grassroots organizing for candidates and issues advocacy campaigns.
In 2008, Ebony graduated from Southern University A&M College, Baton Rouge, LA, where she received her Bachelor of Arts in Political Science. In 2013, she received her Master of Public Administration with a Non-profit Management concentration from Southern as well.
From 2012 to 2014, Ebony served as the outreach coordinator for the Louisiana Democratic Party. She created the Hope2Vote initiative, which worked with the faith community to create civic engagement programs that increased voter participation in the African-American community for the 2014 midterm election. 
Currently, Ebony works for the National Urban League as the director of civic engagement where she educates and mobilizes National Urban League affiliates, auxiliary groups, clients, and the broader community about civic engagement and issues important to the Urban League movement. She is working on her Ph.D. in Political Science at Howard University, concentrating in Black Politics and American Government and minoring in Public Administration and Policy.