Hispanic-White Equality Index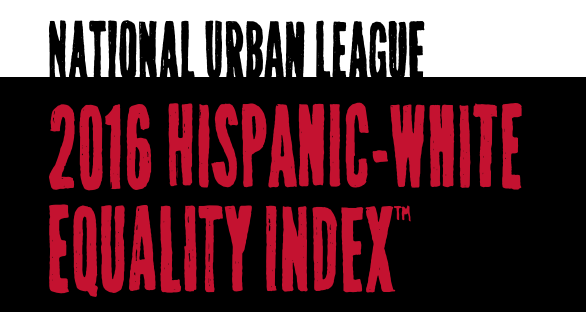 Hispanic-White Income Equality
For Latinos, median household incomes were closest to those of whites in Urban Honolulu, HI which was up from #7 in last year's ranking as a result of 3 percent income growth for Latinos and 1.3 percent growth for whites.  In Urban Honolulu, the median Hispanic household had 80 cents for every dollar of median white household income.  Hispanic and white incomes were least equal in Springfield, MA where the gap was 40 cents on the dollar.  In Springfield, the median household income for Latinos was $23,911 (down 5.1 percent from the 2014 index), compared to $60,105 for whites (down 2.3 percent).
As was the case for Blacks and whites, the highest median Hispanic household income was in Washington-Arlington-Alexandria, DC-VA-MD-WV ($66,523), #50 in the equality ranking.  The lowest median Hispanic household income was in Springfield, MA ($23,911), #72 in the equality ranking.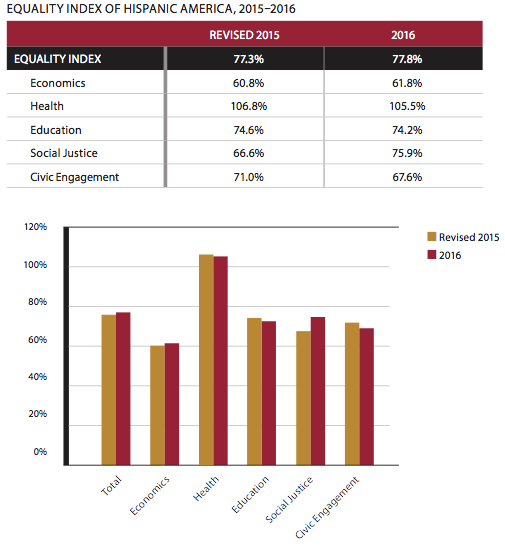 Hispanic-White Unemployment
The 2016 Equality Index of Hispanic America stands at 77.8 percent compared to a revised 2015 index of 77.3 percent.  The increase in the Hispanic-White Index resulted from a major improvement in the social justice index (from 66.6% to 75.9%) and smaller gain in the economics index (from 60.8% to 61.8%) that helped to offset losses in all other categories.  The greatest losses were in civic engagement (from 71.0% to 67.6%), followed by health (from 106.8% to 105.5%), and education (from 74.6% to 74.2%). 
The large increase in the social justice index was the result of improvements on nearly every measure of social justice used to calculate the Equality Index.  Similar to the trends in the Equality Index of Black America, the increase in the economics index came from a smaller digital divide and fewer mortgage and home improvement loan denials. 
On the other hand, Hispanic voter registration and participation dropped sharply during the mid-term elections in 2014 (latest data available), resulting in a decline in the civic engagement index.  While the Hispanic-white health index remains above 100 percent and rates of uninsurance are falling among all groups, declining index values reflect faster health insurance take-up rates among whites than Latinos.
Related Resources:
Read the Full Hispanic-White Equality Index