Mayor Keisha Lance Bottoms
---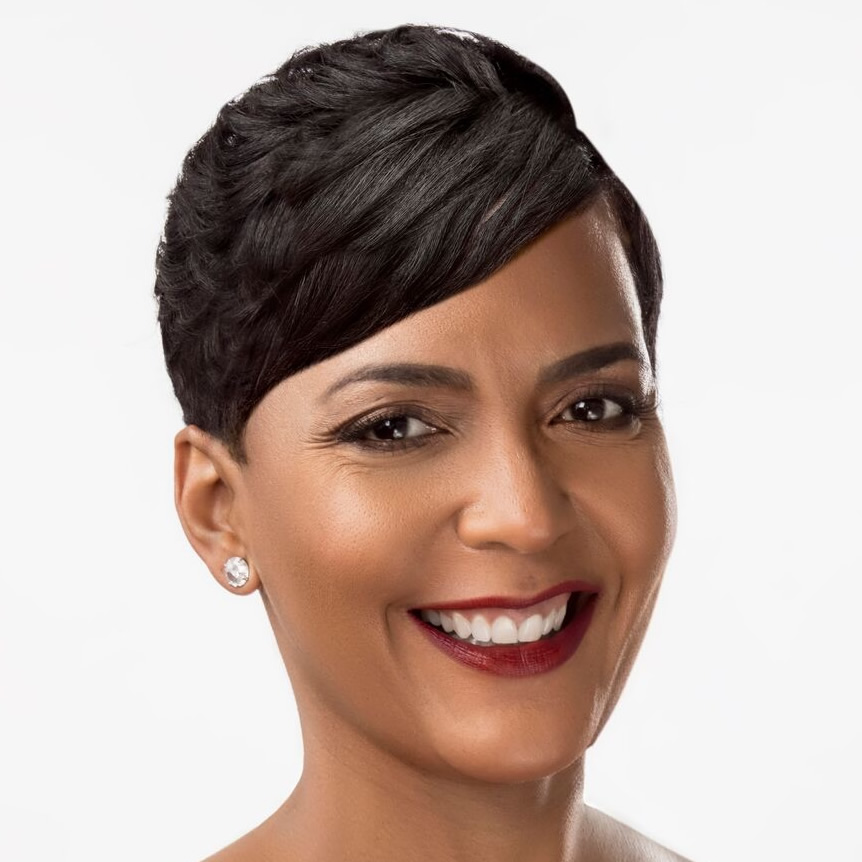 Keisha Lance Bottoms is the 60th Mayor of the City of Atlanta. As the second woman elected Mayor in the City's history, Mayor Bottoms is committed to creating safe communities, expanding access to public transit, developing opportunities for jobs and economic growth and advocating for high quality public education. 
Prior to her election, Mayor Bottoms served as Councilmember of District 11. For nearly eight years, she represented a large portion of the historic Southwest Atlanta community.  During her tenure on Council, Bottoms sponsored groundbreaking legislation that addressed the City's $1.5 billion unfunded pension liability and helped grow the city's reserves from $7.4 million to over $170 million.  She also authored the toughest panhandling legislation in the history of Atlanta, which combines empathy with enforcement and has resulted in offenders receiving often needed social services to help break the cycle of recidivism. 
Mayor Bottoms worked with her former colleagues on the City Council to achieve the goal of hiring 2,000 officers within the Atlanta Police force and to successfully balance the City's annual budget without increasing taxes.  During her term as Vice-Chair of the City's Transportation Committee, the City opened the Maynard H. Jackson International Terminal at Hartsfield-Jackson Atlanta International Airport, solidifying Hartsfield-Jackson's place as the world's busiest and most efficient airport. 
In addition to her service on the City Council, Mayor Bottoms also served as Executive Director of the Atlanta-Fulton County Recreation Authority (AFCRA), where she fostered community engagement and negotiated and managed government relations and public finance. As chief executive officer of AFCRA, Mayor Bottoms spearheaded the sale and $350 million planned redevelopment transition of Turner Field.  She also led a team in redeveloping iconic entertainment venues across Atlanta, including Philips Arena and Zoo Atlanta. 
Mayor Bottoms served on the boards of The Children's School, the Firefighters' Pension Fund, Atlanta Mayoral Board of Service, the Andrew and Walter Young YMCA, Central Atlanta Progress, YWCA of Atlanta, CURE for Childhood Cancer, the Atlanta Cyclorama Task Force and Ben Hill United Methodist Church. She is also a member of the National Center for Civil and Human Rights - Women's Solidarity Society and serves on the Board of Families First, where she shares her personal story of adoption, and advocates on behalf of adoption and foster care.
Mayor Bottoms' commitment to community and public service has been recognized by the YWCA Academy of Women Achievers. She was previously honored with The Trailblazer Award for Outstanding Community Service, the Community Service Icon Award, and the Keeper of the Dream Award.  She is also an alumna of Leadership Atlanta. 
Mayor Bottoms is a member of the State Bar of Georgia, the Atlanta Chapter of Jack and Jill of America, the Dogwood City Chapter of The Links, Inc., and the Atlanta Alumnae Chapter of Delta Sigma Theta Sorority, Inc. 
Mayor Bottoms is a graduate of Florida A&M University and Georgia State University College of Law.  In addition to her career in public service, Mayor Bottoms has maintained a private law practice for more than 20 years, and has served as General Counsel for a multi-million dollar business, as well as a Judge (Pro Hoc) in Fulton County State Court. 
The Mayor lives in Southwest Atlanta with her husband, Derek W. Bottoms, and their four children – Lance, Langston, Lincoln and Lennox.
How do you define tech?
Tech is vital. Tech is necessary for almost every form of communication in the present day. It gives us unprecedented connection and interaction with one another. Without it, government and private companies alike would not be able to function at their full capacity.
What is your favorite social media platform and why?
Twitter is my favorite platform because of its ease of use and the ability it gives me to speak directly to constituents. I am able to relay important information and my views on the issues in real time, and it helps foster two-way communication with a cross section of people.
Can today's political candidate win without a tech/social media strategy?
Social media is vital for a political candidate throughout his or her campaign. It allows voters to experience a deeper level of connectivity with the candidate by communicating who the candidate is and what he or she stands for. Social media has become one of the public's favorite forums for engaging in government and public issues. If you do not have an immediate and transparent tech/social media strategy, it will be extremely difficult to connect with the public and subsequently win.
How can you use technology/ digital tools to improve the lives of your city's residents?
Effective government outreach requires social media because the public has become reliant on this platform for real-time information. A city's website and social media channels are often the first source people check to find information about something as large scale as the passing of new legislation to something more day-to-day like a change in their solid waste pick-up schedule. Social media has also transformed how government organizations communicate during an emergency. If there is an emergency in the city, many constituents look to social media to find updated information, even before their local news station, to ensure that they are aware of exactly what is going on and what to do in an emergency.
Is the digital landscape the new civil rights frontier?
Social media and digital communication provides an open platform for people to voice their opinions.  Social media has been used to spread information and connect on issues such as equality and criminal justice reform. Movements such as Black Lives Matter and the Women's March have multiplied supporters through social networking and exponentially increased their overall influence. The digital landscape has progressed the development of freedom and equality and will continue to do so in years to come.