Mayor Steve Benjamin
---
City of Columbia, South Carolina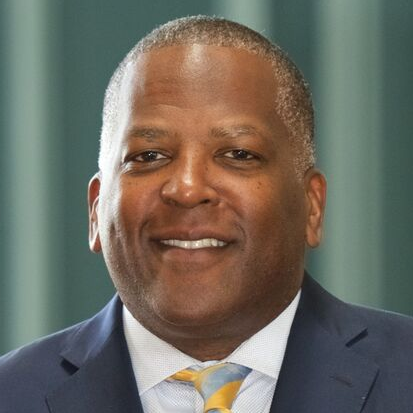 Since being elected mayor in a record turnout election in April 2010, Mayor Steve K. Benjamin has made it his mission to make Columbia the most talented, educated and entrepreneurial city in America.
His service in Columbia started back in 1990 when he served as student body president at the University of South Carolina, later becoming the Student Bar Association President at the USC School of Law.
Quick facts about Mayor Benjamin:
First elected in April 2010
Vice President of the US Conference of Mayors
Co-chair of the Mayors for 100% Clean Energy campaign
Former African-American Mayors Association President (2015-2016)
Member of the Accelerator for America Advisory Council
Honorary Co-Chair of the New Leaders Council
Named 2017 Partner America Small Business Advocate Award winner
Columbia Chamber of Commerce award winner for 2016 Small & Minority Business Advocate of the Year
Named 2016 Walgreen's Happy & Healthy Communities Champion award winner
Named 2016 Deborah Boward Leadership Award winner
Named 2001 SC Young Lawyer of the Year
Named 1999 National Bar Association Young Lawyer of the Year
Named 2006 SC Bar Association Pro Bono Law Firm of the Year
Member of the Affordable Housing Advisory Council for Federal Home Loan Bank Atlanta
Member of the South Carolina Association for Community Economic Development Board
Member of Kappa Alpha Psi Fraternity, Inc.
Member of Sigma Pi Phi Fraternity, Inc.
Former member of the ETV Endowment of South Carolina, Inc. Board of Trustees
Leader in the My Brother's Keeper initiative
Generated budget surpluses in five of the last seven years and seven straight years without a tax increase
Established the city's first Poet Laureate and public art initiative
Launched "Let's Move! Columbia" and in 2015 named the #1 National League of Cities "Let's Move" city in the nation
Established the Justice for All initiative, which implemented measures to improve accountability and trust between law enforcement and Columbia communities
Launched new green infrastructure projects including utilizing new, low-impact technologies and use of modular storage for flood control
In addition to serving as Mayor of Columbia, Mayor Benjamin also serves as Vice President of the U.S. Conference of Mayors and as Chairman for Municipal Bonds for America. He teaches a class at the University of South Carolina Honors College and Columbia College titled "Columbia, South Carolina: Building a Great City."
 
Mayor Benjamin is married to the Honorable DeAndrea Gist Benjamin, Chief Administrative Judge (Common Pleas) for South Carolina's Fifth Judicial Circuit. The two are the proud parents of daughters Bethany (13) and Jordan Grace (10).
How do you define tech?
Tech is the sphere that connects innovation with a need, or societal shift. Technology changes our world each day, and we must be prepared to harness its energy to ensure inclusive growth.
What is your favorite social media platform—and why?
I'd have to say that lately I've been a huge fan of Instagram. Twitter will always hold a special place in my heart, but I've really enjoyed sharing more pictures and videos on Instagram's platform.
Can today's political candidate win without a tech/social media strategy?
I would say no. I believe that old-school grassroots campaign tactics are still fundamental to winning an election, but social media has become such a natural, habitual aspect of our lives that to forsake social media completely would be detrimental to any 21st century campaign.
How can you use technology/digital tools to improve the lives of your city's residents?
As we progress toward becoming a smarter city, we're excited to introduce new technology that will simplify the nature of our municipality and make it more efficient. From smart parking meters that keep you from having to circle the block looking for a space to technology that detects gun shots and allows law enforcement to respond even more quickly, there are a number of things in the pipeline that will prove to be very beneficial to residents and improve their overall quality of life. Tech savvy cities that can really leverage technology are also better equipped to improve equity.
Is the digital landscape the new civil rights frontier?
It seems to be that movements gain momentum quickest via social media; but at the same time, social media can weaken the integrity of a movement when people are only tweeting about change and not attending a City Council meeting or calling their legislators to express their concerns to those who are positioned to bring about substantive policy changes. Social media should only be a component of a movement, not the primary element.