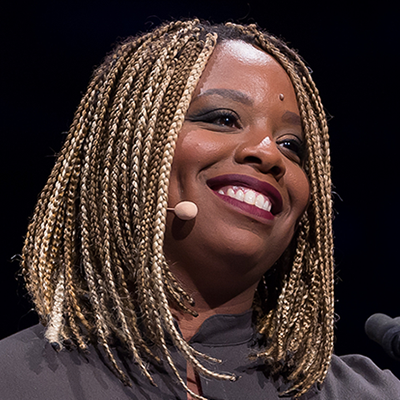 Biography
Artist, organizer, scholar, and public speaker, Patrisse Cullors is a Los Angeles native and Co-Founder of Black Lives Matter, an online forum that builds connections between Black people and allies to fight anti-Black racism, to spark dialogue, and create connections that encourage social action.
At the age of 16, Patrisse discovered herself and her passion for helping young queer women who were dealing with the challenges of poverty and being a person of color in a white-American dominant country after witnessing loved ones experience hate and brutality. In 2013, Patrisse co-founded the global movement of #BlackLivesMatter, which has since grown to an international organization with dozens of chapters and world-wide activists fighting anti-Black racism. She produced and directed a series of theatrical pieces titled POWER: From the Mouths of the Occupied.
Patrisse has been honored with various awards including: The Sydney Peace Prize Award (2017), Black Woman of the Year Award (2015) from The National Congress of Black Women, Civil Rights Leader for the 21st Century Award (2015) from the Los Angeles Times, Community Change Agent Award (2016) from BLACK GIRLS ROCK!, Inc., Women of the Year Award for the Justice Seekers Award (2016) from Glamour, and ESSENCE' first-ever Woke Award.
Patrisse seeks to educate and empower individuals on community issues around anti-Black racism and violence to promote change for a better tomorrow.
Patrisse has been featured in the Los Angeles Times, the Coveteur, Teen Vogue, and the Root and has appeared on ABC News and MSNBC.
Five Questions
How do you define tech?
When I think about tech, I think about the ways in which Black people have been both the innovators of tech, but also left out and often surveilled by technology.
What is your digital space claim to fame?
#BlackLivesMatter, #BlackLivesMatter, #BlackLivesMatter, #BlackLivesMatter, #BlackLivesMatter, #BlackLivesMatter, #BlackLivesMatter, #BlackLivesMatter, #BlackLivesMatter, #BlackLivesMatter.
The revolution will not be televised. It goes live on which social media/digital platform—and why?
Twitter for sure. It will go live there because Twitter has the ability to make something go viral in 2.5 seconds, while simultaneously sharing real time updates of what the revolution looks like.
Is the digital landscape the new civil rights frontier?
Yes, it is. We are witnessing corporations attack our access to an open internet and we know that they are trying to attack our open internet because they have seen the ways in which people of color, women, marginalized communities, Queer folks, Trans folks have used the digital space to amplify our issues and causes.
You're in the room as the "Ten Activism Commandments" are being written. In order of importance, which number is "Thou Shalt Create a Viral Hashtag"—and why?
I think this would be Number 4 on the list of Commandments. I think it's at the top because, obviously, a viral campaign changes not just what happens in the digital space, but it changes the news coverage and has the possibility to change what happens on the ground. I do not believe that it is number one because we still need to be relating to each other as human beings and connecting to one another. We still need to be involved in the evolution of humanity. A hashtag can't do that.