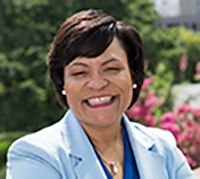 Mayor LaToya Cantrell
City of New Orleans
Mayor LaToya Cantrell has lived a life steeped in community service. As a little girl, her grandmother brought her to neighborhood meetings; and by the age of 13, she was serving as the secretary of her local chamber of commerce.
Mayor Cantrell first fell in love with the Big Easy when she arrived in 1990 as a student at Xavier University. She soon realized that her soul had "found its home in New Orleans." After graduation, she and her husband, Jason, bought a home in the Broadmoor neighborhood; and Mayor Cantrell became an active member of her newly adopted community.
As president of the Broadmoor Improvement Association, Mayor Cantrell led the neighborhood's redevelopment in the wake of the devastation and destruction brought on by Hurricane Katrina. Flooding decimated Broadmoor, but through citizen engagement and Mayor Cantrell's leadership, Broadmoor is widely considered an international model for disaster recovery.
Elected to the City Council in 2012, Mayor Cantrell has prioritized improving people's lives. Her City Council achievements include:
Working with developers on numerous large-scale projects that have created new housing, retail, hospitality and commercial spaces throughout the city and produced thousands of construction jobs and hundreds of permanent jobs;


Spearheading the "Smoke-Free" ordinance, which protects service industry employees and musicians from secondhand smoke; 


Collaborating with developers to produce affordable rental units; 


Passing the "Welcoming Cities" resolution, which aids New Orleans's historically marginalized residents; and 


Regularly meeting with and assisting the city's growing population of new entrepreneurs, including Urban South Brewery, Rouler and more. 

Mayor Cantrell was sworn in as the first female mayor of New Orleans on May 7, 2018—just in time to celebrate the city's 300th anniversary—pledging to produce results that create an equitable and safe New Orleans for all residents. 

She is a dedicated wife, the proud mother of her 10-year-old daughter, RayAnn, and a parishioner at Blessed Trinity Catholic Church.