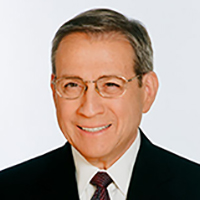 Michael F. Neidorff
Board Chair, National Urban League; Chairman & CEO, Centene Corporation
Michael F. Neidorff is recognized as a transformative leader and executive with a wealth of experience in starting and managing healthcare enterprises. He has successfully led the development and implementation of programs and services under Medicaid, Medicare, and commercial managed care while remaining committed to the core philosophy that quality healthcare is best delivered locally.
Mr. Neidorff became president and chief executive officer of Centene Corporation in 1996. He was named chairman and chief executive officer in May 2004. From the time Mr. Neidorff joined Centene, he has led its transformation from a closely held $40 million corporation to a publicly traded (NYSE: CNC) Fortune 100®, diversified, multi-national healthcare enterprise with annual revenues exceeding $60 billion. Mr. Neidorff is the longest tenured CEO among the major managed care companies.
Under Mr. Neidorff's direction, Centene has expanded from operating Medicaid health plans solely in Wisconsin and Indiana to operations and implementations in 31 states serving 14 million managed care and TRICARE eligible beneficiaries. The company provides cost-effective coverage solutions to the rising number of under-insured and uninsured people. In 2018, Centene ranked No. 61 on the Fortune 500® List, No. 210 on Fortune's Global 500 List, and No. 43 on Forbes' Global 2000: Growth Champions list. In 2017, Centene ranked No. 19 on Fortune's Change the World list. The list competitively ranks Fortune 500® companies on innovative strategies that positively impact the world.
Centene Corporation, a Fortune 100® company, is a diversified, multi-national healthcare enterprise that provides a portfolio of services to government sponsored and commercial healthcare programs, focusing on under-insured and uninsured individuals. Centene operates local health plans and offers a range of health insurance solutions. Many members receive benefits provided under Medicaid, including the State Children's Health Insurance Program (CHIP), as well as Aged, Blind or Disabled (ABD), Foster Care and Long-Term Services and Supports (LTSS), in addition to other state-sponsored programs, Medicare (including the Medicare prescription drug benefit commonly known as "Part D"), dual eligible programs and programs with the U.S. Department of Defense and U.S. Department of Veterans Affairs. Centene also provides healthcare services to groups and individuals delivered through commercial health plans. The company also contracts with other healthcare and commercial organizations to provide specialty services including behavioral health management, care management software, correctional healthcare services, dental benefits management, in-home health services, life and health management, managed vision, pharmacy benefits management, specialty pharmacy, and telehealth services.