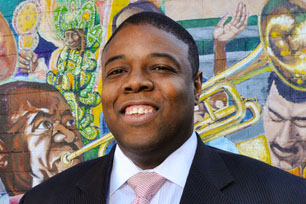 By James Perry
President and CEO
Winston-Salem Urban League
Dr. Martin Luther King, Jr. was jailed 29 times, stabbed just below his heart in one failed assassination attempt, his home was bombed, he was assaulted countless times, trolled by the FBI and ultimately, assassinated. Life—and death—for Dr. King was nothing if not uncomfortable.
But how does one choose to live under the constant threat of harm to life and limb?
Dr. King understood that discomfort was fundamental in advancing our American discourse. Dr. King was willing to sacrifice his own comfort to steer America through its minefield of racial dysfunction and emotional discomfort.
Today, the Urban League movement is the most efficient network for transforming American frustration and discomfort around race into actionable change, and the reasons are several:
First, in nearly every community that has struggled under the crushing weight of headline-grabbing, present-day, race-based unrest, a National Urban League affiliate has been on the ground. Affiliates are always a key part, if not a leader, in any community coalition that brings meaningful solutions to the issue of race.
Second, our century-old, national, professional civil rights affiliate network provides for almost immediate, real-time data and strategy sharing, and feedback looping among affiliates and partners.  J. Howard Henderson and Michael McMillan, respectively the CEOs of the Baltimore and St. Louis Urban League affiliates, began sharing lessons learned after the deaths of Freddie Gray and Michael Brown—both during the ensuing civil unrest, and after each critical step in supporting those communities. In turn, the National Urban League and affiliates around the nation mobilized to support both organizations, even committing to host the National Urban League Conference in both communities. The result was palpable. McMillan launched a $1.5 million job-training center in Ferguson to provide sustainable change. And it has been reported that the National Urban League Conference produced as much as $4.2 million in economic impact and investment in Baltimore.
Third, and perhaps most important, Henderson and McMillan, and leaders like them in the Urban League movement, have shared and explained how Freddie Gray and Michael Brown's lives could have been saved in the first place. The lessons learned from that 20/20 hindsight vision allowed the Winston-Salem Urban League to take preemptive action.
We organized the Black & Blue Town Halls during the summer of 2016. In short, we put discomfort front and center to save lives. We asserted—with community leaders, the police department, funders and the corporate community—that if we addressed the present, relatively mild discomfort in our communities head on, we could avoid the greater discomfort suffered in communities like Ferguson and Baltimore. To their credit, our community listened and organized. Nearly 200 people turned out for three town halls designed to examine the relationship between the Black community and the police department. We are now turning the feedback from those events into actionable policy.
During that hot summer of 2016, we believe our Black and Blue Town Halls played a role in ensuring that no lives were lost to poor policing practices. Our success owes a debt to the structure of an Urban League movement that recognizes that empowering communities requires us to sacrifice our own comfort and channel the discomfort of our communities toward social justice.
###