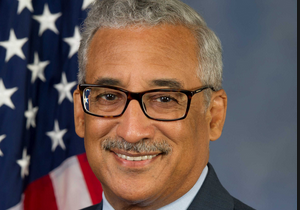 Congressman Bobby Scott is currently serving in his thirteenth term in Congress.  Prior to serving in the House of Representatives, he served in the Virginia House of Delegates from 1978 to 1983 and in the Senate of Virginia from 1983 to 1993.
Congressman Scott is the Ranking Member on the Committee on Education and the Workforce, a committee he has served on since his arrival to the House of Representatives in 1993. In his capacity as the most senior Democrat on the Committee, he is leading the fight to strengthen working families and create an economy that puts families first.
In his first year serving as Ranking Member, he was a key architect of the Every Student Succeeds Act, which replaced the No Child Left Behind Act as the chief governing law over elementary and secondary education in America. He is focused on solving the growing problem of college affordability by expanding access to Pell Grants, closing persistent achievement gaps, and dismantling the School-to-Prison Pipeline. Congressman Scott is dedicated to ensuring that millions of Americans have the opportunity to go to a safe working environment every day and know that they will be treated fairly, paid a living wage, able to collectively bargain for the best benefits, and provided access to affordable healthcare. Congressman Scott was instrumental in the passage of the Older Americans Act of 2016, and is working to advance reauthorizations of the laws that fund our nation's child nutrition, juvenile delinquency prevention, career and technical education, and higher education programs.
Congressman Scott has the distinction of being the first African American elected to Congress from the Commonwealth of Virginia since Reconstruction and only the second African American elected to Congress in Virginia's history. Having a maternal grandfather of Filipino ancestry also gives him the distinction of being the first American with Filipino ancestry to serve as a voting member of Congress.
Congressman Scott was born in Washington, D.C., and grew up in Newport News, Virginia.  He is a graduate of Harvard College and Boston College Law School.  After law school, he returned home to Newport News and practiced law from 1973 to 1991.  He received an honorable discharge for his service in the Massachusetts National Guard and the United States Army Reserve.