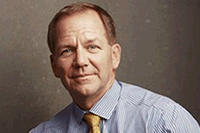 Paul T. Jones
Founder, Co-Chairman
Chief Investment Officer
Tudor Investment Corporation
Paul Jones is founder, Co-Chairman, Chief Investment Officer and the controlling principal of Tudor Investment Corporation ("Tudor"), which he formed in 1980.  Tudor is part of the Tudor Group, a group of affiliated companies engaged in trading in the fixed income, equity, currency and commodity markets.  Tudor is headquartered in Greenwich, Connecticut, and manages approximately $8.6 billion and employs approximately 345 personnel in its asset management business in the US, UK, Singapore and Australia.  Paul is a portfolio manager focusing on discretionary macro trading and is a principal risk taker for the firm's flagship fund.
Paul served as Chairman of the New York Cotton Exchange from August 1992 to June 1995, and was instrumental in the creation of its Financial Instrument Exchange (FINEX).  His philanthropic service includes founder, former chair, and current board member of the Robin Hood Foundation; founder and former board member of the Excellence Charter School; founder of the Bedford Stuyvesant I Have A Dream program; former chair and current board member of the National Fish and Wildlife Foundation; former chairman and current board member of The Everglades Foundation Inc.; current director of StudentsFirst NY; co-founder and currently serving on the Advisory Board of the University of Virginia's Contemplative Sciences Center; current Chairman of JUST Capital Foundation, Inc.; current Chairman of Pure Edge, Inc., current Trustee of NYU Langone Medical Center and, current board member of the Apollo Theater Foundation.
Paul holds a B.A. in economics from the University of Virginia (1976).