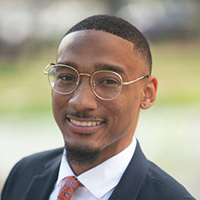 Sean Reed
Civic Engagement Chair, Dallas-Fort Worth Urban League Young Professionals
Sean Reed is an active and engaged community advocate and educator with a diverse set of experiences, engaging in advocacy for students and their families. As a proud native of Dallas, Texas, Reed was determined not to allow his environment in the neighborhoods of Oak Cliff and Pleasant Grove to write his story. He was driven to be successful and to help those around him reach their own success. 
A true public servant, Reed has been a leader in voter registration efforts in Dallas—organizing and engaging in community empowerment for the betterment of communities of color. Reed serves as the civic engagement chair of the Dallas-Fort Worth Urban League Young Professionals.  He is also associated with several other organizations and boards, including the Texas Organizing Project, the Dallas Kids First Campaign Management and Policy Fellowship, Color Of Change, the Dallas Police Department Community Advisory Board, Prairie View A&M University Dallas County 4-H Youth Development Committee, and others.
Reed developed and enhanced his leadership attributes while in college at Sam Houston State University (SHSU). He mentored incoming freshmen and local middle school students while holding many leadership positions, including president of the SHSU Chapter of the NAACP and The Talented Tenth. He also served on SHSU committees and boards, including the Campus Life Development Committee, Student Service Fee Committee, and the Multicultural Student Services Committe. Reed was the recipient of many awards, including president of the year, NAACP Freedom Fighter of the year, Talented Tenth Member of the year, and many more.
Reed graduated from Sam Houston State's College of Business in 2016 with a BBA degree, majoring in human resources management.